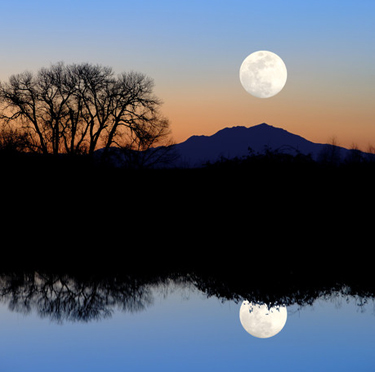 from Luminosity, track released September 28, 2020
Music by Len Greene
Lyrics by Len Greene & Vani Greene
Lead vocals: Vani Greene
Background vocals: Len & Vani Greene
Acoustic Guitar: Len Greene
Keyboards and synth parts: Jordan Rudess
Bass: Tony Markellis
Drums: Robert LaValle
Bansuri Flutes: Steve Gorn
Frame drums: Glen Velez
Percussion: Cyro Baptista, Roger Squitero
© All rights reserved
Crystal Moon is our version of the "creation myth" of the birth of the Universe. It evolves from nothingness, stirs into form and then bursts forth into the song of creation in all it's glory.
CRYSTAL MOON
A crystal moon
A winding tune
A river flowing down a mountainside
To oceans green
And parts unseen
A windswept dream all done in paradise
A drop of rain
Upon a windowpane
A lofty cry echoes, "Who am I?"
All of them reflections of eternity
An ancient ship
That's sailing free
Reaches shore just when and where it's meant to be
All of them reflections of eternity
First breath of dawn
To sail upon
The endless rise into the firmament
On outstretched wing
The wind can sing
In concert with the elements
All of them reflections of eternit
y